27.02.2013 20:53:04
ANGRY motorists are subjecting workmen to a torrent of abuse over long delays on the A487 on the outskirts of Aberystwyth.
AMEC workers are doing essential safety work for Wales and West Utilities to replace a gas pipe near Southgate as required by the Health and Safety Executive for Wales. But in the latest of a series of hold-ups on the road, the temporary traffic lights are causing massive tailbacks in both directions.
Irate motorists have been witnessed by the Cambrian News venting their frustration at the workmen with foul-mouthed rants, V-signs, and middle-finger gestures.
The work will continue along the A487 to its junction with the access road to Maes Crugiau estate, possibly until next week.
A spokesman for the AMEC workmen said: "We are replacing a gas pipe, and hope to finish by Friday, 1 March, or maybe early next week, if no problems are encountered. "We started on Sunday, 17 February, but major work did not start until Tuesday, when temporary lights were needed.
"The lights are manually controlled for much of the day, with "spotters" at Morrisons roundabout, and in Rhydyfelin, in contact with a colleague on site to report on traffic build-up, which we try to manage.
"But we are subjected to verbal abuse by scores of drivers every day. They are obviously frustrated, but it doesn't warrant the vitriolic comments and gestures aimed at us. "We are often told to f*** off, get a proper job, but words like w**kers and t**sers are also used, with V-signs, middle-finger gestures, and other verbal expletives.
"The work is not optional - public safety is at stake, so it has to be done, regardless."
The spokesman also acknowledged that, apart from the delays, some frustration may come from seeing the workmen "standing around".
He said: "It is often the case that we are waiting for a colleague to finish a particular aspect, maybe for safety, and it gives the wrong impression. "Or perhaps an excavator driver is waiting there until needed."
Click here for the full story, or see this week's Aberystwyth edition of the Cambrian News
Tags: road works | workmen | abuse | Motorists
Hits: 749 | Read more...
19.02.2013 16:41:04
What Percentage of Motorists Do Not Wear Seatbelts?
Eleven percent of motorists do not wear seatbelts in the back of cars, The Royal Society for the Prevention of Accidents has revealed. Five percent follow suit in the front. Furthermore, the safety charity has claimed that thirty-one percent in the front of "other vehicles" fail to wear three point harnesses. This, of course, is extremely dangerous. The purpose of seatbelts is to prevent motorists moving excessively during accidents. This enables them to benefit from other safety features such as air-bags and crumple zones. Far preferable to being propelled through windscreens. Furthermore, those in the front - even if buckled-up - can be killed or injured by rear passengers if the latter move forward due to lack of restraints. It has therefore been a legal requirement to wear belts in the front of cars since 1983. This followed the efforts of Lord Nugent of Guildford - then President of The Royal Society of the Prevention of Accidents - who championed an amendment to the Transport Bill. The law was then extended to rear passengers in 1991.
Safety Charity Advises Motorists To Wear Seatbelts
Kevin Clinton, The Royal Society's Head of Road Safety, said: "Figures still show that a minority of people are not belting up." He added: "We must not become complacent over seatbelt wearing. Seatbelts are highly effective in protecting vehicle occupants and significantly reduce the risk of being fatally or seriously injured in a crash. In a crash at thirty miles per-hour - if unrestrained - you will be thrown forward with a force of between thirty and sixty times your own bodyweight. Ultimately, the benefits of seatbelts need to be promoted and the perceived reasons for not wearing seatbelts reduced, particularly when it comes to educating children. Adults can set an example by wearing their own seatbelts so that children understand the necessity for them as they grow older."
Volvo – or to be precise Nils Bohlin from Volvo – invented the three-point seatbelt in the late fifties. The manufacture then permitted its competitors to copy the design in the interest of road safety. This gesture must have saved hundreds of thousands of lives. Inevitably though, seatbelts have evolved since the fifties. As such some now have pre-tensioners which limit motorists' movements during accidents by tightening across their chests. These operate via small explosive charges. Furthermore, it is likely that inflatable belts will hit the mass market soon. These reduce injuries by spreading the forces inflicted on motorists over wider areas. So – Mr & Mrs Eleven Percent – buckle-up.
Tags: Motorists | seat belts | accident | killed | injured | crash | children
Hits: 652 | Read more...
06.01.2012 23:35:59
Drivers in the UK should update their knowledge of the Highway Code on a regular basis, it has been suggested.

Kevin Clinton, head of road safety at the Royal Society for the Prevention of Accidents, noted UK motoring environments and conditions are changing all the time.

The industry figure pointed out the Highway Code is updated often, while road users can tend to be a little complacent when at the wheel.

Revisiting the rules and regulations may therefore prove a worthwhile exercise for those keen to stay abreast of any changes and eager not to fall foul of altered laws.

Mr Clinton said: "We recommend that everyone buys a copy of the latest Highway Code every few years, or reads it on the Directgov website, to keep themselves up to date."

His comments come after new research compiled by motor oil company Castrol revealed an alarming lack of understanding regarding road rules in the UK, with two-thirds of drivers regularly confused by basic road signs.
Tags: highway | Code | update | knowledge | Motorists | Signs | rules | road
Hits: 761 | Read more...
03.01.2012 09:32:27
Almost half of motorists believe cyclists should have to take out insurance for when they cause a collision, a study has found.
A growing number of drivers, who describe cyclists as "a law unto themselves", are angry that push bikes habitually pass through red lights and ignore "no cycling" signs.
Around a quarter said cyclists should pay road tax, while 46 per cent said they should be made to pass an official proficiency test. One in six motorists would go further by forcing bikes to have number plates.
The study, by the insurance group Confused.com, highlighted growing tensions on the nation's crowded roads. Of the 1,000 drivers and 1,000 cyclists surveyed, one in 20 motorists claimed a cyclist was to blame for an accident they had been involved in.
Meanwhile, one in eight cyclists said they had been knocked off their bike by a motorist, and 34 per cent said they had been a victim of road rage.
Tags: cyclists | Motorists | insured | proficiency test | collision | red lights
Comments 1 | Hits: 838 | Read more...
30.12.2011 21:08:59
Mobile menaces: 171,000 drivers fined for using a phone behind the wheel as figure jumps by a third in a year
Record numbers of drivers have been caught using their mobile phones behind the wheel.
More than 171,000 were given a £60 fine and three penalty points over the past year – up more than a third on the previous 12 months.
This defiance displayed by motorists indicates the crackdown by police, launched nearly a decade ago, is failing.
The number of drivers putting themselves and innocent people at risk has soared each year since 2008, when just 115,900 were caught phoning or texting behind the wheel.

Experts yesterday blamed the rise on motorists developing a blasé attitude towards the law.
Tags: crackdown | Motorists | texting | driving | phones | mobile | fined | drivers
Hits: 663 | Read more...
15.12.2011 16:13:41
Drivers are to be released from reams of red tape currently required by government, Transport Secretary Justine Greening announced today.
As a result of the Road Transport Red Tape Challenge – the government wide process to get rid of unnecessary, burdensome and overcomplicated regulation - the Department for Transport is:
Scrapping the regulation requiring motorists to hold a paper counterpart to their driving licence by 2015 – saving drivers up to £8m.
Improving the regulation surrounding the notification process for vehicles that are not in use on the road (Statutory Off Road Notification or SORN). Once drivers have notified the DVLA that their vehicle is SORN, they will no longer have the burden of annual SORN renewal.
Only issuing hard-copies of V5C vehicle registration certificates for fleet operators when needed, with the potential to be rolled out to private motorists.
Introducing a limited exemption from drivers' hours rules so that those who also drive as Territorial Army reservists in their own time can continue to do so.
Following a vigorous process of challenge, both by the public and within Whitehall, a total of 142 road transport regulations will now be scrapped or improved.
Justine Greening said;
"Motorists shouldn't have to keep numerous bits of paper just to prove they can drive and have bought insurance – we live in digital age and we need to embrace that.

"Reducing the number of rules and regulations in our life is absolutely vital to removing barriers to economic growth and increasing individual freedoms. This whole process just proves that there's so much sitting on our statute books that at the very least needs a good spring clean or can be scrapped entirely."
Business and Enterprise Minister Mark Prisk said:
"I'm delighted that so many motoring regulations will be scrapped or improved, particularly those that affect business.

"The Red Tape Challenge has built up real momentum since it was launched in April. Overall, of over 1200 regulations considered so far, we have agreed to scrap or improve well over 50 per cent.

"We have already published regulations covering 12 themes, and there are 13 themes to come, so there remains huge scope for reducing the burden of regulation on business and individuals even further."
Other proposed changes to road transport regulations include:
Removing the need for an insurance certificate. The Department for Transport will work with the insurance industry on removing the need for motorists to have to hold an insurance certificate.
Abolishing the requirement for drivers to prove they have insurance when applying for tax meaning 600000 more people will be able to tax their car online. This has been made possible by new checks of existing databases for insurance under new Continuous Insurance Enforcement rules. The DVLA's records are compared regularly with the Motor Insurance Database (MID) to identify registered keepers of vehicles that appear to have no insurance.
We will look at experience in other countries on driver Certificates of Professional Competence (CPC) - the qualification for professional bus, coach and lorry drivers. In particular, to see if we could remove the need for some sectors, such as farmers who drive stock to market, from needing a CPC.
Local Authorities will now have to ensure business interests are properly considered as part of any future proposed Workplace Parking Levy scheme. They must show they have properly and effectively consulted local businesses, have addressed any proper concerns raised and secured support from the local business community.
Abolishing the regulations on the treatment of lost property on buses. Bus companies currently have to wait 48 hours before they can throw away perishable items left on the bus.
Tags: Government | red tape | Motorists | SORN | Counterpart | licence | tax | V5C | registration | document
Hits: 561 | Read more...
15.11.2011 10:17:26
The Highways Agency is urging drivers to take some time out to prepare their cars for winter, with bad weather expected this month. Motorists are urged to prepare a kit for their car with essential basic supplies such as a shovel, warm blanket, ice scraper and torch.
The government is prepared for bad weather too, and the agency says that it has more than quarter of a million tonnes of gritting salt on standby for bad weather – 25% more than the same time last year. This salt will be distributed by 500 state-of-the-art winter vehicles that are kept on permanent standby during the cold seasons.
Roads minister Mike Penning said: "Not every journey is essential in severe weather, but if you really must travel in the worst conditions, check your vehicle before you set out; take a severe weather emergency kit; check traffic and weather conditions and always plan your journey. For more information and advice I'd urge all drivers to make time for winter and visit the Highways Agency's website, where there are lots of tips to help keep winter journeys safe and trouble free."
Real-time traffic updates from the Highways Agency website are available at highways.gov.uk/traffic.
Tags: Motorists | winter | snow | prepare | weather | highways | gritter
Hits: 636 | Read more...
19.09.2011 11:20:03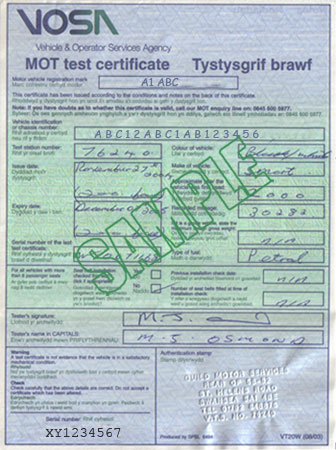 Government Ministers are considering a plan to reduce the frequency of MOT tests, which, they claim, would reduce costs for motorists.  This is not a new idea.
A consultation will look at whether the first MoT test can be moved back from three to four years, and the second test after another two years. A key question is whether this move is really aimed at helping motorists or deflecting anger at artificially high fuel prices being used to prop up government spending in other areas?

Although modern vehicle technology and manufacturing has improved considerably, the move could put possible essential repair work back a year and result in unsafe vehicles on UK roads.

Manufacturers and distributors of replacement auto spares will suffer a reduction in trade during the first period, but then as parts need to be replaced then the business will return. The effect on small traders however and public safety for that matter could well be more profound.

The changes will apparently be discussed with motoring groups, UK road safety organisations and the MoT trade, the reaction to this consultation has to be unanimous and final.

The government stands to waste time and tax payers' money investigating it again; as recently as 2008, after a high-profile plan announced by Gordon Brown to "ease the burden on motorists" by making MoT tests less frequent, plans were shelved after a Department for Transport report concluded that changing to a two-year system would "increase deaths and serious injuries significantly".
Tags: MOT | Government | Frequency | Testing | vehicles | Save Money | Motorists
Hits: 582 | Read more...