13.01.2012 22:44:54
The Department for Transport has announced that it is to establish an expert panel to examine the technical aspects of introducing specific legislation on drug driving.
Under current laws police have the responsibility of proving that someone has been impaired by taking illegal drugs rather than simply that they have taken them, and the government says that it wants to make drug-driving as serious an issue as drink-driving.
Academic and scientific experts will be assembled in the spring to examine how such an offence could be defined and what levels might be set within the legislation. The group will also look at whether drivers could test positive for certain illegal drugs through legitimately prescribed means and the interaction between alcohol and drugs.
Road safety minister Mike Penning said: "Britain has some of the safest roads in the world but we know how important it is to tackle the menace of drug driving. That is why we are putting together a panel of experts to give us advice on the technical aspects of introducing a new offence of driving with an illegal drug in your body."
Tags: drug | driving | law | illegal | class A | Government | offence | legislation
Hits: 678 | Read more...
29.12.2011 12:29:27
NEW Government rules will mean local councils have more say and flexibility when siting new road signs, including 20mph zones.
The plans were put before Parliament by Transport Minister Norman Baker to ensure councils will no longer need Whitehall approval to introduce certain new signs.
Mr Baker said: "I am bringing an end to the ludicrous situation where councils have to come to central government for permission to put up signs they need to use on a regular basis to manage their roads.
"This will also allow them to more easily introduce new signs - like those which will prevent satnavs directing huge lorries down narrow country lanes.
By adding these signs to the list of those which councils can use without needing Whitehall approval we will be reducing costs and bureaucracy as well making sure that the needs of 21st century drivers and cyclists are met."
Tags: rules | road | Signs | Government | local | councils | 20mph | zones
Hits: 654 | Read more...
15.12.2011 16:13:41
Drivers are to be released from reams of red tape currently required by government, Transport Secretary Justine Greening announced today.
As a result of the Road Transport Red Tape Challenge – the government wide process to get rid of unnecessary, burdensome and overcomplicated regulation - the Department for Transport is:
Scrapping the regulation requiring motorists to hold a paper counterpart to their driving licence by 2015 – saving drivers up to £8m.
Improving the regulation surrounding the notification process for vehicles that are not in use on the road (Statutory Off Road Notification or SORN). Once drivers have notified the DVLA that their vehicle is SORN, they will no longer have the burden of annual SORN renewal.
Only issuing hard-copies of V5C vehicle registration certificates for fleet operators when needed, with the potential to be rolled out to private motorists.
Introducing a limited exemption from drivers' hours rules so that those who also drive as Territorial Army reservists in their own time can continue to do so.
Following a vigorous process of challenge, both by the public and within Whitehall, a total of 142 road transport regulations will now be scrapped or improved.
Justine Greening said;
"Motorists shouldn't have to keep numerous bits of paper just to prove they can drive and have bought insurance – we live in digital age and we need to embrace that.

"Reducing the number of rules and regulations in our life is absolutely vital to removing barriers to economic growth and increasing individual freedoms. This whole process just proves that there's so much sitting on our statute books that at the very least needs a good spring clean or can be scrapped entirely."
Business and Enterprise Minister Mark Prisk said:
"I'm delighted that so many motoring regulations will be scrapped or improved, particularly those that affect business.

"The Red Tape Challenge has built up real momentum since it was launched in April. Overall, of over 1200 regulations considered so far, we have agreed to scrap or improve well over 50 per cent.

"We have already published regulations covering 12 themes, and there are 13 themes to come, so there remains huge scope for reducing the burden of regulation on business and individuals even further."
Other proposed changes to road transport regulations include:
Removing the need for an insurance certificate. The Department for Transport will work with the insurance industry on removing the need for motorists to have to hold an insurance certificate.
Abolishing the requirement for drivers to prove they have insurance when applying for tax meaning 600000 more people will be able to tax their car online. This has been made possible by new checks of existing databases for insurance under new Continuous Insurance Enforcement rules. The DVLA's records are compared regularly with the Motor Insurance Database (MID) to identify registered keepers of vehicles that appear to have no insurance.
We will look at experience in other countries on driver Certificates of Professional Competence (CPC) - the qualification for professional bus, coach and lorry drivers. In particular, to see if we could remove the need for some sectors, such as farmers who drive stock to market, from needing a CPC.
Local Authorities will now have to ensure business interests are properly considered as part of any future proposed Workplace Parking Levy scheme. They must show they have properly and effectively consulted local businesses, have addressed any proper concerns raised and secured support from the local business community.
Abolishing the regulations on the treatment of lost property on buses. Bus companies currently have to wait 48 hours before they can throw away perishable items left on the bus.
Tags: Government | red tape | Motorists | SORN | Counterpart | licence | tax | V5C | registration | document
Hits: 563 | Read more...
19.09.2011 11:20:03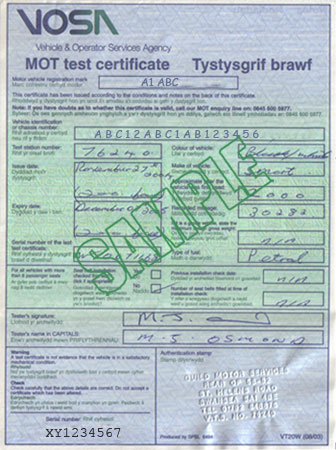 Government Ministers are considering a plan to reduce the frequency of MOT tests, which, they claim, would reduce costs for motorists.  This is not a new idea.
A consultation will look at whether the first MoT test can be moved back from three to four years, and the second test after another two years. A key question is whether this move is really aimed at helping motorists or deflecting anger at artificially high fuel prices being used to prop up government spending in other areas?

Although modern vehicle technology and manufacturing has improved considerably, the move could put possible essential repair work back a year and result in unsafe vehicles on UK roads.

Manufacturers and distributors of replacement auto spares will suffer a reduction in trade during the first period, but then as parts need to be replaced then the business will return. The effect on small traders however and public safety for that matter could well be more profound.

The changes will apparently be discussed with motoring groups, UK road safety organisations and the MoT trade, the reaction to this consultation has to be unanimous and final.

The government stands to waste time and tax payers' money investigating it again; as recently as 2008, after a high-profile plan announced by Gordon Brown to "ease the burden on motorists" by making MoT tests less frequent, plans were shelved after a Department for Transport report concluded that changing to a two-year system would "increase deaths and serious injuries significantly".
Tags: MOT | Government | Frequency | Testing | vehicles | Save Money | Motorists
Hits: 585 | Read more...